Crypto.com is a cryptocurrency wallet and payment processing platform that allows users to buy, sell, and store digital assets. The company was founded in 2016 by former Facebook employees and has since become one of the leading providers of cryptocurrency services. In this Crypto.com Review, we'll take a look at the Crypto.com platform and its features.
Crypto is one of the hottest topics in business today. Everyone wants in on the action! This is a great tool for newcomers to understand the basics of the crypto world and make investments that will give them the highest return.
It's never been easier to get started with cryptocurrency trading, but that doesn't mean it's a good idea to jump in and trade without thinking things through. Crypto.com makes it easy for anyone to start trading cryptocurrencies without having to worry about how they work or how much money they will make from them.
Whether you are new to the world of crypto coins or whether you have already made some investments in different cryptos, this app gives you everything that you need in one place.
Who Is Crypto.com?
Crypto.com is a Hong Kong based digital asset wallet and blockchain platform. It was launched in June 2016 by Bobby Bao, Gary Or, Kris Marszalek, and Rafael Melo. The company is based on the Hong Kong stock exchange and has raised $26.7 million in funding.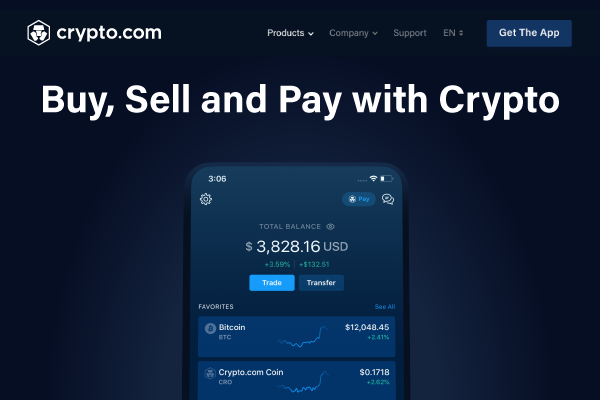 What Do They Offer?
Crypto.com is a cryptocurrency trading platform that allows customers to buy, sell, trade, and earn interest on their crypto assets. The Crypto.com service is exclusively available through the app. There is no desktop access available. The following are some of the platform's key features:
Buy and sell crypto
Send funds to other crypto.com users 
Included crypto wallet
Staking platform — earn interest
Visa card
In total, Crypto.com supports over 90 cryptocurrency pairings. However, the cryptocurrencies supported might differ depending on your location.
CRO Coin
Crypto.com also provides its own native cryptocurrency, the CRO. It allows consumers to pay for items and services using the Crypto.com Wallet App. It may be traded as well. Users have the option of receiving payments in CRO, stable coins, or fiat currency. To increase their interest yield by 20x, they can swap CRO or stake it.
Crypto.com Features and Products
The company offers a wide range of features and services:
Crypto Pay
Crypto Pay is the best and easiest way to pay with your cryptocurrencies, and it's growing in popularity all over the world. Not only that, it's the easiest way to load your cryptocurrencies onto your mobile phone, so you can spend them wherever you go!
The Crypto.com App
The Crypto.com app allows you to exchange and purchase a variety of cryptocurrencies at current pricing. In addition to sending, receiving, and storing cryptocurrency, you can use this software to make purchases at various merchants.
The usefulness of the app has been its unique selling proposition, allowing users to buy and sell bitcoin and other cryptocurrencies at real cost. If you want to save money, you'll have to pay with a bank transfer rather than a credit card.
Crypto Earn
Users may use this feature to earn up to 12% interest on their deposits, proving to be a profitable choice for depositors.
Earn cryptocurrency in the form of CRO, Stablecoins, or other cryptocurrencies such as ETH and BTC depending on your preference. That's how to earn money in crypto, and the method is attracting a steady stream of new users.
Crypto Credit
You may use your MCO Visa card to earn credit in CRO with Crypto Credit. It's as simple as putting money on your Crypto.com Visa card account utilizing cryptocurrency.
Crypto.com Exchange
When you trade using the firm's exchange, you'll pay only a fraction of what you would if you traded on a national market. You may even buy and sell crypto assets in real time without worrying about transaction fees or limits.
Crypto.com DeFi Wallet
You can have your own cryptocurrency wallet at Crypto.com by simply creating an account. This wallet comes with all the basic features that any cryptocurrency wallet should have, such as instant deposits and withdrawals.
Furthermore, DeFi (defi) is a feature that allows you to swap between different cryptocurrencies. In other words, if you have some Bitcoin and want to convert it to Ether, you can do so using DeFi Swap.
Earn Interest on Your Cryptocurrencies
Crypto.com is an online wallet and cryptocurrency platform with an interest-bearing crypto bank account. At the moment, the interest rate is 12% for stablecoins and 8% for regular cryptocurrencies.
The amount of interest you may profit will not only be determined by the type of coin you contribute to Crypto.com – but also by how much CRO tokens you are prepared to stake. There are also many different interest rates available to you depending on how long you'd want to keep your coins locked away.
Crypto Loans
Crypto.com is a digital lending platform that allows people to borrow fiat currency against their crypto holdings. The lending process is quite similar with all other lenders on the market. In return, you will receive an instant credit line equal to 50% of your collateral value.
You may add cryptocurrencies to the loan program's list of permitted assets including: CRO BTC ETH XRP LTC XLM EOS
In terms of receiving your 50% credit line, you have the option of paying with: PAX TUSD USDC USDT
However, if you're looking for a crypto-based stablecoin loan provider from Crypto.com, keep in mind that the service comes with an annual interest rate of 12%. By keeping at least 10,000 CRO tokens in your account, you may reduce this to 8%.
Crypto.com Security
Crypto.com is committed to the security of our users' accounts. The majority of cryptocurrencies on Crypto.com are kept in cold storage (i.e. offline), and only the very most sensitive assets are kept in hot storage (i.e. online). Local governments require that the fiat currencies stored on Crypto.com are kept in regulated financial institutions, meaning that your assets are always protected.
Multi-factor authorization (MFA) is a security protocol that enables authentication between different devices to prove that the user has access to the account in question. In the case of crypto.com, this involves things like passwords, email, and phone verification as well as biometrics like face recognition, fingerprints, or iris scans.
Withdrawals are additionally safeguarded through an email confirmation and a stringent whitelist of any external addresses. The withdrawal will not go through if you did not whitelist the address.
Crypto.com Customer Service
The Crypto.com website offers 24/7 customer support through in-app chat and email. It's evident that Crypto.com's customer service could be improved. Slow response times and a lack of assistance addressing concerns are the most common complaints. Service improves as you progress up the tiers; one of the VIP program's benefits is a dedicated account manager, who can help high-frequency traders avoid the same issues as less frequent users.
Crypto.com Alternatives
Conclusion
Crypto.com is a leading digital payments platform offering several services. These include a virtual card, crypto-to-fiat exchange, peer-to-peer payments, and crypto.com Wallet, where you can easily manage your coins, cards, and earn interest.
While customer service may improve, those who value simplicity and affordability will appreciate the ability to access all of their digital assets from one safe location. Trading on Crypto.com is restricted to a select number of assets.
You'll have a chance to get in on the ground floor of a booming industry. When a startup company takes off, it has a ton of potential to grow.
The trading interface is straightforward and easy to use, and the costs and commissions are still quite modest. These features are essential for marketing Crypto.com as a popular and accessible trading platform.
For all of these reasons and more, Crypto.com continues to be a viable cryptocurrency exchange platform with much to offer investors and traders from the industry.
Pros
Earn interest by staking coins
High security
One-stop shop for all your crypto needs
Crypto.com Visa card with generous cashback rewards
Cons
High staking requirements
Low privacy