Shopback is one of the leading e-commerce platforms in Southeast Asia. It has over 500,000 products and more than 10 million users. In this Shopback review, we will take a look at what this platform has to offer and how it can benefit you as a consumer.
The biggest problem with online shopping is that it's not always easy to find the best deals and offers available. That's where the power of the web lies, and the convenience of the internet is just another reason to get online shopping!
ShopBack has been created to make things easier for you. It allows you to earn cashback when shopping at your favourite stores without having to go through any complicated sign-up processes or even leave the comfort of your own home.
You simply browse around and add items to your shopping cart; the system automatically matches any discounts you may qualify for, so more money in your pocket!
When using ShopBack, there's no need for any additional software or apps on your phone. Everything can be done from within their mobile app, so just download it onto your phone and start browsing today!
What is ShopBack?
ShopBack is a discount code platform that offers customers in eight countries a way to save money at hundreds of Australia's most popular internet stores. The platform is accessible in thirteen countries, with more than 15 million people signed up for the platform across the world.
The ShopBack website is used to join the program. It is available in English, French, German, Spanish, Japanese, Korean, Portuguese, Russian, Italian and Chinese.
The app is an easy way to buy things from online stores, and if you're someone who uses your smartphone for more than just calling people or sending texts, it may well convince you to make a purchase from the site more than once.
Shopback is an online shopping portal that enables its members to earn a small commission by refunding money through merchant affiliate programs. This allows customers to get additional discounts and other incentives, like voucher codes, and daily deals on online shopping.
ShopBack has teamed up with a host of online retailers, including eBay, Myer, Dan Murphy's, Amazon, David Jones, Woolworths, Booking.com, and The Iconic.
There truly is something for everyone. ShopBack offers everything from in-person shopping to online shopping and even a great rewards program! Shopping is fun for everyone, and with ShopBack, we hope that your shopping experience will be just as fun.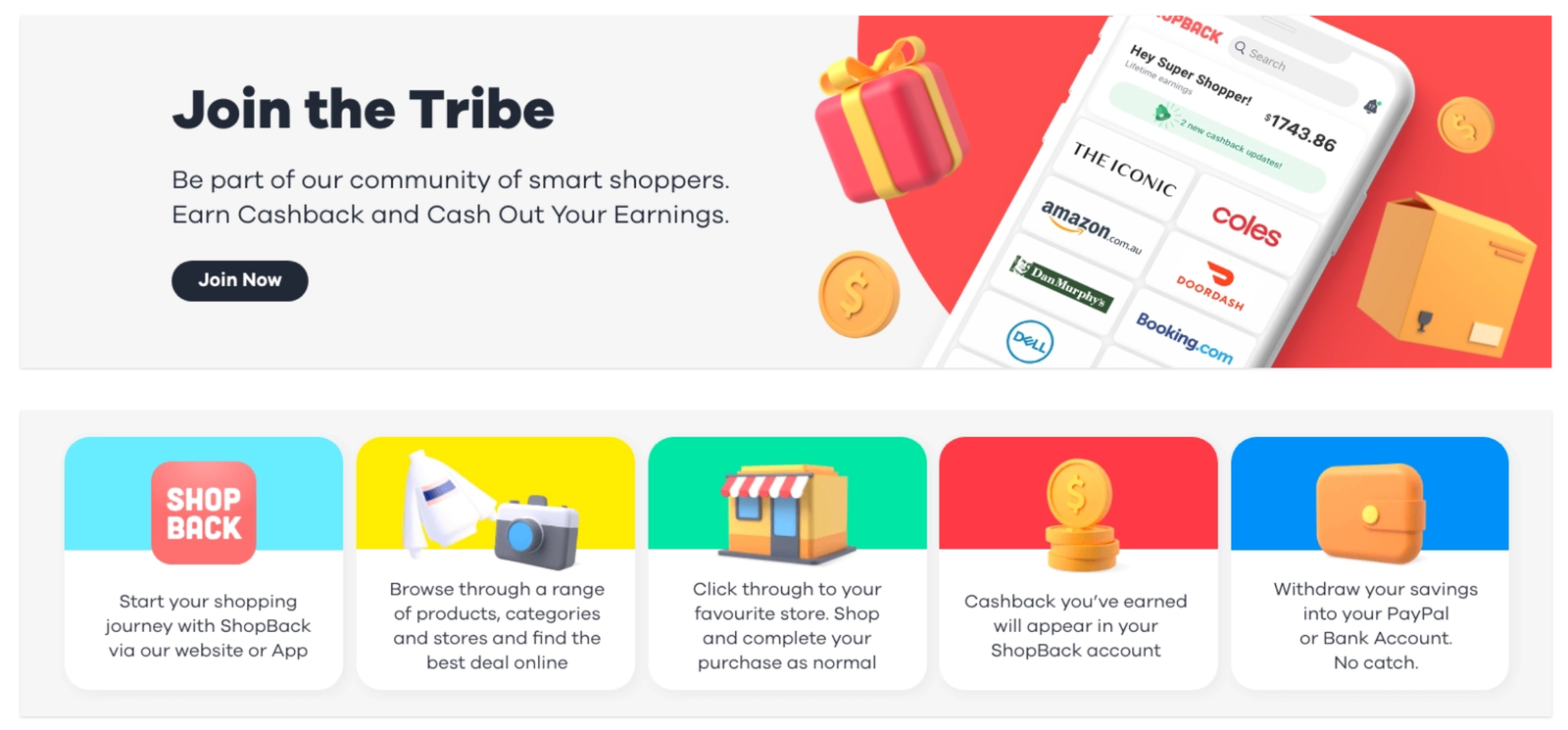 How Does Shopback Earn Money?
Shopback makes its money through affiliate marketing. When a company pays you a portion of the sale of a product or service that you refer to them, it's known as affiliate marketing.
How does this work for Shopback?
Businesses will provide Shopback an affiliate link so that they can earn a commission when someone buys something with the link. They'll also display the link on their website and mobile app so that customers can easily buy items.
When a customer uses the link, Shopback receives a commission. The commission is a great incentive for customers to use their links since they get money back without having to do anything.
It's a deceptively simple idea that may appear difficult at first glance.
How do you get paid?
You'll earn a certain amount for every cashback offer you take, and for every referral bonus you receive. Once you reach the payout threshold, you can then withdraw what you've earned.
You may withdraw your earnings via direct bank transfer or PayPal. The payout threshold is determined by the country in which you reside. After you have attained the payout limit, you can receive your money via bank transfer or PayPal.
Once funds have been deposited in your PayPal account, they will typically show in your account after three to five days. If the transfer goes through without a problem, you can go to their Withdraw Money page. You'll notice that all of the banks are supported.
PayPal is a very convenient way to receive payments. You can make deposits of any amount, even under $1! PayPal also allows for payments to be made without the need for a credit card.
How much money can you make?
ShopBack, as previously stated, pays cash back to consumers on products they purchase. The size of the payout is determined by how much money the company earns from each sale.
So they've got that covered. They offer a great deal of information from which you can select a wide variety of categories to view on their site. There's a good chance you'll find something you'll enjoy!
As a result, your chances of making money are increased. When it comes to their cashback rates, the majority of the cashback rates you'll find will be between 2% and 5%. This site is great for those looking for good cashback rates, but I don't think the offers here are worth the amount of points you need to earn.
The fact that they have worked with over 3,000 merchants to provide you a wide range of money-back specials makes their earning potential quite appealing.
Shopback Features
Browser Extension
The ShopBack browser plugin shows up if you're on a website that supports cashback. So, use this tool and get the most out of your cashbacks.
Upsized Cashback Deals
Shopback provides daily upsized cashback offers for major retailers. These coupons can provide up to 30% off select items and are typically limited in the amount of money they can save you each day.
Who is Shopback for?
Shopback is a simple and free way to save money while you shop online. It's completely free, takes less than two minutes to sign up, and there are no strings attached.
Who owns ShopBack?
Henry Chan and Joel Leong, two former hostel mates, became a part of Zalora in 2014 when they built ShopBack, a popular cashback program that allows consumers to earn money by shopping through their website.
Since then, the business has expanded dramatically, establishing itself as a multi-million-dollar corporation with millions of consumers enjoying the products they purchase online every day.
ShopBack support
You can go to the question mark icon in the upper right hand side of your Dashboard, and click on the help icon to access their Help Center page. Their Help Center is quite extensive, and most questions are answered there.
If you can't discover an answer, though, you may always send them an email. But you should be prepared to send a follow-up email after a certain period of time. Many people will simply ignore you.
The customer service department has made our experience extremely pleasant. They're quick to respond, and when we call, we almost always get through right away.
Shopback Alternatives
Conclusion
ShopBack is a company that helps customers save money on their purchases online. With so many retailers out there, ShopBack may actually help you save money. Why not buy from a company that helps you save money while also making it easier for you to save money?
It's no surprise that more and more shoppers use online marketplaces to research and buy products. In fact, over half a million people have used ShopBack as their preferred online shopping site. This is a revolution in commerce and a new approach to shopping.
It seems like a wise way to shop with a service like ShopBack. In fact, it's a good idea to consider how ShopBack can assist you in saving time and money.
Pros
Free to sign up
Massive range of cash back offers
Easy to use
Offers convenient payment methods
Cons
Can take up to 60 days to be paid cash back
You have to spend money to earn